Elderflower is in bloom now, so if you like to do a bit of foraging like I do, this is the time to take a bag and some scissors and head out for a walk.
Elderflower likes to grow in hedgerows along fields or along the forest edge.
As we are going to use the flowers' nectar for the cordial, make sure you don't harvest them along busy roads.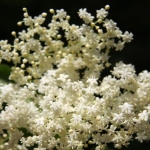 Back at home, rinse the flowers briefly under water to get rid of bugs and dust (don't rinse too long, as the good nectar will get lost otherwise)
Do adjust my family recipe below to how many flowers you've got or how much cordial you're planning to make:
For 30 flower heads you'll need 4 litres of water
(The flower heads should be big and in full bloom, ideally picked after the sun has been on them)
Soak the flowers upside down in a big bowl with the water for at least 24h, possibly 2-3 days, depending on how warm the room is you're keeping them in. Stir occasionally. The water should change to a light honey colour and take on the summery aroma of the flowers.
Strain through a muslin and add 1kg castor sugar and 40g citric acid per litre water.
(Tip: you can get citric acid from any chemists)
Bring to the boil and fill into sterilised glass bottles.
The cordial keeps in the pantry for up to a year (as long as you keep it out of the light), once opened keep the bottle in the fridge and it will keep for a further few months.
Serve diluted with some slices of lemon, ice cubes and a few twigs of mint for a delicious alcohol free summer punch!